10m 3 element yagi by G4EZT
This antenna is made by ZX-yagi. It has 3 elements on a 3.4 metre long boom fed by a Gamma match.
G4EZT

10m Bent attic Yagi by KE4UYP
This is a horzontally polarized three Element Yagi. The bent Elements cause very little performance lose.
When you consider it is only 8ft. 5" wide and 7ft. 6" long and still has 6.2dbi gain and 20db front to back ratio.
_
A compact 2 element beam for 10M by EI9GQ
During a visit to a local garden centre, I bought a pack of 6ft bamboo rods. Armed with just a couple of rolls of sticky tape, some fibreglass rod, cable ties and the pack of bamboo, I set about building a beam for 10M.
_
A Hanging Rectangular Loop Antenna by KT4QW
This page describes a rotatable hanging loop antenna that has been specifically designed for hanging in a tree... Horizontally polarized with a broad azimuth pattern and gain of nearly 3dB over a simple horizontal dipole!
.
Build Notes for a 10 Meter Moxon Antenna by MØMRR
I live in a typically overpopulated English town. Our back garden is very small - measuring approx. 25ft X 35ft. Neighbours are side to side and to our rear. Putting up a large antenna is just not possible.
.
10m Aluminium Moxon Construction by MØMRR
I found the plan to build the aluminium Moxon via the Moxon Project web site. As I had very good results with a wire Moxon put together from telescopic fishing poles and wire I thought I would make something a bit sturdier.
.
A Light and Sturdy Quad for 10 and 15 meters by KA3PDM & W3/CE3VU
Fishin' for DX? A few fishin' poles and a hank of wire can help you snag the Big One!
.

A Simple Nondirectional Antenna for Ten Meters by W7AYB
There are several reasons why a ham whose chief interest lies in the ten-meter band may not want to or cannotput up a rotatable beam. Such an antenna is expensive, it requires a sturdy support, many consider it an eyesore, ...
.
The HF Satellite Antenna by W4SAT
This is a no compromise dual band antenna. Instead of using traps, this design interlaces two separate antennas on one boom. This is a full size, four element beam on 10, and three elements on 15 meters!
.
Three-Element Antenna for 28 MHz by DF9CY
The 3 element is a commercial antenna by PAN International, which I slightly modified for good performance on the 10m Amateur-Radio band. Design Frequency: 28.300 MHz.
.
Two on 10 by AA1DO
Hankerin' for more performance on 10 meters? Wanna greet the upcoming sunspot peak with gusto? This home-brew two-element beam is the perfect introduction to rolling your own gain antenna.
.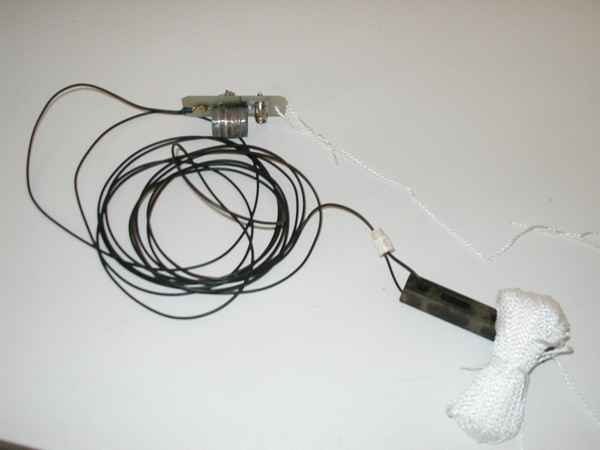 Une antenne 10 mètres pour station portable
Une pensée particulière à nos amis "ON3" lors de la confection du prototype de cette antenne, on vient de leur attribuer la bande des 10 mètres. Idéale pour le 28 MHz QRP ( 10 watts maximum ), parfaite pour le trafic en portable par sa facilité d'implantation.