Showcasing at the Tokyo Ham Fair 2012, the Icom IC-7100 HF/VHF/UHF Amateur Radio Transceiver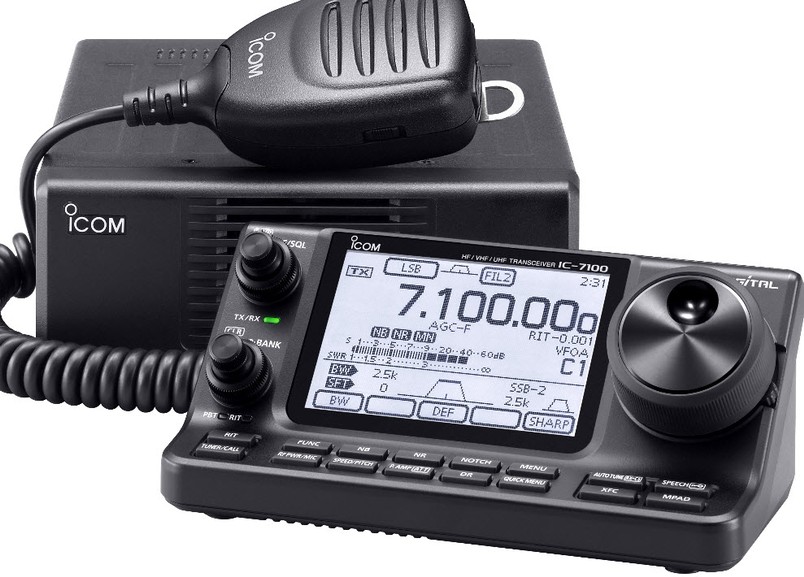 Icom Inc. have shown a new sample of a revolutionary HF/VHF/UHF Amateur Radio Mobile Transceiver with touch screen control called the IC-7100 at the Tokyo Ham Fair 2012.

The IC-7100 is a HF+6m+VHF+UHF all mode compact radio with an innovative slanted touch-screen LCD controller. A first for an Icom transceiver, the IC-7100 is designed to the 70MHz band in European versions where 70MHz is open to Amateur radio enthusiasts. To maintain its commitment to D-STAR, all versions of the IC-7100 will come with standard D-STAR DV mode.

Since the launch of the original IC-706 in 1995, Icom has been leading the market of HF/VHF/UHF multi-band mobile radios. The popularity of vehicular mounted amateur radios may not be as high as the times of the IC-706 series, but the IC-7100 has been carefully designed to reignite Amateurs' interest in mobile communications and brings digital communication opportunity to a wider range of radio Amateurs.

Planned Features include
• Slanted front separated controller with large touch screen dot matrix LCD (controller cannot be attached to body front)
• Speaker is self contained inside the controller
• Full mode (SSB, CW, AM, FM, RTTY decode) and D-STAR DV
• HF (100W) / 50MHz (100W) / 70MHz (50W) / 144MHz (50W) / 430MHz (35W) (Note: Power may be different according to version. The 70MHz band is available for some versions only)
• Lower current consumption / cooler operation (compared with the IC-7000)
• SWR meter function also works for VHF and UHF bands
• Remote power on / off
• IF DSP for filtering / interference removal / noise reduction
• SD memory card slot, voice recording
• USB Audio In / Out, remote control
• +/- 0.5ppm frequency stability
• 505ch memory channels


Further details about its features and options have been made available on a Pre-release product information sheet. The IC-7100 Pre-release information can be downloaded on this page.
IC-7100 VIDEO

A high resolution picture of the IC-7100 can be downloaded from our image bank. Click here to enter our image bank.

At the moment we do not have any information about release date or price.
-.-. --.-
DUTCH: Japan Het gaat erg goed met D-Star en Icom. Terwijl Yaesu, Kenwood en de grotere merken voorlopig enkel publiceren op het net over hun DVplannen maar nog niets te koop hebben, neemt Icom weer een flinke voorsprong. Het pakt uit met twee nieuwe toestellen die ook over D-Star beschikken. De ID-51 en IC-7100. De ID-51 is een groet broer voor de ID-31 : een duplex dualbander (VV / VU / UU). Naast de standaard analoge eigenschappen dus ook D-Star, ingebouwde GPS, spraakfunctie & voicerecorder. En een SD card voor de opslag van GPS en settings. En er zit een automatisch logbook in van je QSO's in CVS formaat. Een ID-31 dus maar een dualband en met breedbandontvanst. Andere extra nieuwigheden voor deze portabel zijn een onafhankelijke AM/FM ontvanger. Dat kennen we van Yaesu. Verder is er de mogelijkheid voor automatische doorgave van je postitie met andere stations onderling. Een soort van in range systeem maar dan met de positie erbij. Klik op de foto voor een grotere versie. De prefolder van de ID-51 zit hier. Met de IC-7100 stapt Icom weer helemaal een vooruitstrevende weg op: een touch-screen op je transceiver. Eindelijk techniek voor vandaag voor commerciële amateur toestellen. Kort samengevat is de IC-7100 een ic-7000 met daarin een ID-51. Dus HF, VHF en UHF in één compacte verpakking. Het kleurenscherm is weg maar daarvoor krijg je een aanraakscherm voor in de plaats. Opvallend is dat ook de 4m band aan boord is ! Verder DSP op de IF en D-Star als toemaatje op SSB/AM/FM. Net zoals op de IC-7000 kan je kijken naar RTTY, maar niet zenden (zonder extra's). GPS hebben we niet standaard gezien. Klik op de foto voor een groter beeld. De Prefolder van van de IC-7100 zit hier. Met wat geluk onder de kerstboom of voor begin 2013.